Limited Time Discount OFFER
USE PROMOCODE 10OFF

<![if !IE]>
<![endif]> 13000+ satisfied candidates
Frequent updates to all exams
Free updates for 90 days
Download right away
Money Back Guarantee
Passing rate of over 98.9%
Study on PC, iPhone, iPad

99% passing incredible passing ratio
All the time available chat support
Six year experience of excellence
Over 35000 Questions and Answers
A team of around 3 dozen specialist writers
More than 3 times cost effective than traditional training materials
Free Demos for over 3000 exams
13000+ plus successful candidates





Microsoft
The products and certifications being offered by Microsoft basically give a chance to the professionals to improve their qualifications on any level. When there is quality training material available for such certifications, the task of reaching for your desired goals become easier for the candidates, that is why here at Actual Exams we have listed all the certifications being offered by Microsoft and if there is something you cannot find, you can always use the Search bar to look for it and even then if there is a problem, our live chat support is there 24/7 to help you with any query you have. The critical thing is the choice of the certification that you want to go for, since there are so many certifications being offered by Microsoft. We suggest you choose a certification according to your career path and if you have any confusion, our representative can help you choose the one that suits you best.
Microsoft Certification
.Net Certification

.Net Certification Exams

CRM

Customer Relationship
Management

Excel Certification

Excel Certification Exams

Last Updated: Sep 30, 2014

Total Exams: 10

Last Updated: Sep 30, 2014

Total Exams: 3

Last Updated: Sep 5, 2014

Total Exams: 2

MBS

Microsoft Business Solutions
(MBS)

MCDBA

Microsoft Certified Database
Administrator

MCDST

Microsoft Certified Desktop
Support Technician

Last Updated: Sep 30, 2014

Total Exams: 3

Last Updated: Sep 27, 2014

Total Exams: 4

Last Updated: Sep 20, 2014

Total Exams: 2

MCITP

Microsoft Certified IT
Professional

MCITP Database
Administrator 2008 to
MCSE: Data Platform

MCITP Database Administrator
2008 to MCSE: Data Platform

MCITP Database Developer
2008 to MCSE: Data
Platform

MCITP Database Developer 2008
to MCSE: Data Platform

Last Updated: Sep 30, 2014

Total Exams: 20

Last Updated: Sep 18, 2014

Total Exams: 1

Last Updated: Sep 18, 2014

Total Exams: 1

MCITP: Business
Intelligence Developer
2008

Microsoft Certified IT
Professional (MCITP) Business
Intelligence Developer 2008

MCITP: Business
Intelligence Developer
2008 to MCSE: Business
Intelligence

MCITP: Business Intelligence
Developer 2008 to MCSE:
Business Intelligence

MCITP: Consumer Support
Technician

Microsoft Certified IT
Professional (MCITP) Consumer
Support Technician

Last Updated: Sep 24, 2014

Total Exams: 1

Last Updated: Sep 27, 2014

Total Exams: 1

Last Updated: Aug 28, 2014

Total Exams: 1

MCITP: Consumer Support
Technician on Windows
Vista

MCITP: Consumer Support
Technician on Windows Vista

MCITP: Database
Administrator

Microsoft Certified IT
Professional (MCITP) Database
Administrator

MCITP: Database
Administrator 2008

Microsoft Certified IT
Professional (MCITP) Database
Administrator 2008

Last Updated: Aug 28, 2014

Total Exams: 1

Last Updated: Sep 6, 2014

Total Exams: 1

Last Updated: Sep 11, 2014

Total Exams: 2

MCITP: Database Developer

Microsoft Certified IT
Professional (MCITP) Database
Developer

MCITP: Database Developer
2008

Microsoft Certified IT
Professional (MCITP) Database
Developer 2008

MCITP: Enterprise
Administrator

Microsoft Certified IT
Professional (MCITP)
Enterprise Administrator

Last Updated: Sep 6, 2014

Total Exams: 1

Last Updated: Sep 28, 2014

Total Exams: 2

Last Updated: Sep 27, 2014

Total Exams: 7

MCITP: Enterprise
Administrator on Windows
Server 2008

MCITP: Enterprise
Administrator on Windows
Server 2008

MCITP: Enterprise Desktop
Administrator 7

Microsoft Certified IT
Professional (MCITP)
Enterprise Desktop
Administrator 7

MCITP: Enterprise Desktop
Support Technician 7

Microsoft Certified IT
Professional (MCITP)
Enterprise Desktop Support
Technician 7

Last Updated: Sep 27, 2014

Total Exams: 7

Last Updated: Sep 30, 2014

Total Exams: 2

Last Updated: Sep 1, 2014

Total Exams: 2

MCITP: Enterprise
Messaging Administrator

Microsoft Certified IT
Professional (MCITP)
Enterprise Messaging
Administrator

MCITP: Enterprise
Messaging Administrator
2010

Microsoft Certified IT
Professional (MCITP)
Enterprise Messaging
Administrator 2010

MCITP: Enterprise
Messaging Administrator
on Exchange 2007

MCITP: Enterprise Messaging
Administrator on Exchange 2007

Last Updated: Aug 22, 2014

Total Exams: 1

Last Updated: Sep 29, 2014

Total Exams: 2

Last Updated: Aug 22, 2014

Total Exams: 1

MCITP: Enterprise Project
Management with Microsoft
Office Project Server
2007

Microsoft Certified IT
Professional (MCITP)
Enterprise Project Management
with Microsoft Office Project
Server 2007

MCITP: Enterprise Support
Technician

Microsoft Certified IT
Professional (MCITP)
Enterprise Support Technician

MCITP: Enterprise Support
Technician on Windows
Vista

MCITP: Enterprise Support
Technician on Windows Vista

Last Updated: Sep 17, 2014

Total Exams: 1

Last Updated: Sep 29, 2014

Total Exams: 2

Last Updated: Sep 29, 2014

Total Exams: 2

MCITP: Lync Server
Administrator 2010

MCITP: Lync Server
Administrator 2010

MCITP: Server
Administrator

Microsoft Certified IT
Professional (MCITP) Server
Administrator

MCITP: Server
Administrator on Windows
Server 2008

MCITP: Server Administrator on
Windows Server 2008

Last Updated: Sep 23, 2014

Total Exams: 1

Last Updated: Sep 28, 2014

Total Exams: 3

Last Updated: Sep 28, 2014

Total Exams: 3

MCITP: SharePoint
Administrator 2010

MCITP: SharePoint
Administrator 2010

MCITP: Virtualization
Administrator on Windows
Server 2008 R2

MCITP: Virtualization
Administrator on Windows
Server 2008 R2

MCITP: Windows Server
2008 R2, Virtualization
Administrator

Microsoft Certified IT
Professional (MCITP) Windows
Server 2008 R2, Virtualization
Administrator

Last Updated: Sep 30, 2014

Total Exams: 2

Last Updated: Sep 30, 2014

Total Exams: 4

Last Updated: Sep 30, 2014

Total Exams: 4

MCP

Microsoft Certified
Professional

MCPD

Microsoft Certified
Professional Developer

MCPD: SharePoint
Developer 2010

MCPD: SharePoint Developer
2010

Last Updated: Sep 12, 2014

Total Exams: 2

Last Updated: Sep 14, 2014

Total Exams: 4

Last Updated: Sep 29, 2014

Total Exams: 1

MCPD: Web Developer 4

MCPD: Web Developer 4

MCSA

Microsoft Certified Solutions
Associate

MCSA 2003

Microsoft Certified Systems
Administrator 2003

Last Updated: Sep 11, 2014

Total Exams: 2

Last Updated: Sep 27, 2014

Total Exams: 3

Last Updated: Sep 27, 2014

Total Exams: 9

MCSA 2008

Microsoft Certified Systems
Administrator 2008

MCSA: SQL Server 2008

Microsoft Certified Solutions
Associate: SQL Server 2008

MCSA: SQL Server 2012

Microsoft Certified Solutions
Associate (MCSA): SQL Server
2012 Certification

Last Updated: Sep 27, 2014

Total Exams: 3

Last Updated: Sep 24, 2014

Total Exams: 2

Last Updated: Sep 30, 2014

Total Exams: 5

MCSA: Windows 7

Microsoft Certified Solutions
Associate: Windows 7

MCSA: Windows 8

Microsoft Certified Solutions
Associate (MCSA): Windows 8

MCSA: Windows Server 2008

Microsoft Certified Solutions
Associate (MCSA): Windows
Server 2008 Certification

Last Updated: Sep 1, 2014

Total Exams: 2

Last Updated: Aug 30, 2014

Total Exams: 2

Last Updated: Sep 28, 2014

Total Exams: 3

MCSA: Windows Server 2012

Microsoft Certified Solutions
Associate (MCSA): Windows
Server 2012

MCSD

Microsoft Certified Solution
Developer

MCSD: SharePoint
Applications

Microsoft Certified Solutions
Developer (MCSD): SharePoint
Applications

Last Updated: Sep 30, 2014

Total Exams: 4

Last Updated: Sep 15, 2014

Total Exams: 2

Last Updated: Sep 11, 2014

Total Exams: 2

MCSD: Web Applications

Microsoft Certified Solution
Developer: Web Applications

MCSD: Windows Metro style
Apps using C#

Microsoft Certified Solution
Developer: Windows Metro style
Apps using C#

MCSD: Windows Store Apps
Using C#

MCSD: Windows Store Apps Using
C#

Last Updated: Sep 30, 2014

Total Exams: 4

Last Updated: Sep 14, 2014

Total Exams: 1

Last Updated: Sep 15, 2014

Total Exams: 2

MCSD: Windows Store Apps
Using HTML5

MCSD: Windows Store Apps Using
HTML5

MCSE

Microsoft Certified Solutions
Expert

MCSE (Legacy)

Microsoft Certified Systems
Engineer (Legacy)
Certification Exams

Last Updated: Aug 22, 2014

Total Exams: 3

Last Updated: Sep 30, 2014

Total Exams: 10

Last Updated: Sep 27, 2014

Total Exams: 7

MCSE 2003

Microsoft Certified Systems
Engineer 2003

MCSE 2003 Messaging

Microsoft Certified Systems
Engineer 2003 Messaging

MCSE 2003 Security

Microsoft Certified Systems
Engineer 2003 Security

Last Updated: Sep 30, 2014

Total Exams: 9

Last Updated: Sep 30, 2014

Total Exams: 6

Last Updated: Sep 27, 2014

Total Exams: 5

MCSE 2008

Microsoft Certified Systems
Engineer 2008

MCSE: Business
Intelligence

Microsoft Certified Solutions
Expert (MCSE): Business
Intelligence Certification

MCSE: Communication

Microsoft Certified Solutions
Expert (MCSE): Communication

Last Updated: Sep 15, 2014

Total Exams: 3

Last Updated: Sep 30, 2014

Total Exams: 5

Last Updated: Sep 30, 2014

Total Exams: 3

MCSE: Data Platform

Microsoft Certified Solutions
Expert (MCSE): Data Platform

MCSE: Desktop
Infrastructure

Microsoft Certified Solutions
Expert (MCSE): Desktop
Infrastructure Certification

MCSE: Messaging

Microsoft Certified Solutions
Expert (MCSE): Messaging

Last Updated: Sep 30, 2014

Total Exams: 4

Last Updated: Sep 30, 2014

Total Exams: 4

Last Updated: Sep 30, 2014

Total Exams: 5

MCSE: Private Cloud

Microsoft Certified Solutions
Expert (MCSE): Private Cloud
Certification

MCSE: Server
Infrastructure

Microsoft Certified Solutions
Expert (MCSE): Server
Infrastructure Certification

MCSE: SharePoint

Microsoft Certified Solutions
Expert (MCSE): SharePoint

Last Updated: Sep 30, 2014

Total Exams: 5

Last Updated: Sep 30, 2014

Total Exams: 6

Last Updated: Sep 30, 2014

Total Exams: 5

MCSM: Communication

Microsoft Certified Solutions
Master: Communication

MCSM: Data Platform

Microsoft Certified Solutions
Master: Data Platform

MCSM: Directory Services

Microsoft Certified Solutions
Master: Directory Services

Last Updated: Sep 30, 2014

Total Exams: 5

Last Updated: Sep 30, 2014

Total Exams: 5

Last Updated: Sep 30, 2014

Total Exams: 5

MCSM: Messaging

Microsoft Certified Solutions
Master: Messaging

MCSM: SharePoint

Microsoft Certified Solutions
Master: SharePoint

MCTS

Microsoft Certified Technology
Specialist

Last Updated: Sep 30, 2014

Total Exams: 5

Last Updated: Sep 30, 2014

Total Exams: 3

Last Updated: Sep 29, 2014

Total Exams: 25

MCTS on SQL Server 2008
to MCSA: SQL Server 2012,
Part 2

MCTS on SQL Server 2008 to
MCSA: SQL Server 2012, Part 2

MCTS: .NET Framework 2.0
Distributed Applications

Microsoft Certified Technology
Specialist (MCTS) .NET
Framework 2.0 Distributed
Applications

MCTS: .NET Framework 2.0
Web Applications

Microsoft Certified Technology
Specialist (MCTS) .NET
Framework 2.0 Web Applications

Last Updated: Sep 12, 2014

Total Exams: 1

Last Updated: Aug 25, 2014

Total Exams: 1

Last Updated: Aug 25, 2014

Total Exams: 1

MCTS: .NET Framework 2.0
Windows Applications

Microsoft Certified Technology
Specialist (MCTS) .NET
Framework 2.0 Windows
Applications

MCTS: .NET Framework 3.5
ADO.NET Applications

Microsoft Certified Technology
Specialist (MCTS) .NET
Framework 3.5, ADO.NET
Applications

MCTS: .NET Framework 3.5
ASP.NET Applications

Microsoft Certified Technology
Specialist (MCTS) .NET
Framework 3.5 ASP.NET
Applications

Last Updated: Aug 25, 2014

Total Exams: 1

Last Updated: Aug 25, 2014

Total Exams: 2

Last Updated: Sep 14, 2014

Total Exams: 2

MCTS: .NET Framework 3.5
Windows Communication
Foundation Applications

Microsoft Certified Technology
Specialist (MCTS) .NET
Framework 3.5, Windows
Communication Foundation
Applications

MCTS: .NET Framework 3.5
Windows Forms
Applications

Microsoft Certified Technology
Specialist (MCTS) NET
Framework 3.5 Windows Forms
Applications

MCTS: .NET Framework 3.5
Windows Workflow
Foundation Applications

MCTS in .NET Framework 3.5 -
Windows Workflow Foundation
Applications Certification

Last Updated: Aug 25, 2014

Total Exams: 1

Last Updated: Aug 25, 2014

Total Exams: 1

Last Updated: Aug 25, 2014

Total Exams: 1

MCTS: .NET Framework 3.5
WPF Application
Development

Microsoft Certified Technology
Specialist (MCTS) .NET
Framework 3.5 Windows
Presentation Foundation
Applications

MCTS: .NET Framework 3.5,
Windows Presentation
Foundation Applications

MCTS: .NET Framework 3.5,
Windows Presentation
Foundation Applications

MCTS: .NET Framework 4,
Data Access

Microsoft Certified Technology
Specialist (MCTS) .NET
Framework 4, Data Access

Last Updated: Aug 25, 2014

Total Exams: 1

Last Updated: Aug 25, 2014

Total Exams: 1

Last Updated: Sep 5, 2014

Total Exams: 1

MCTS: .NET Framework 4,
Service Communication
Applications

MCTS: .NET Framework 4,
Service Communication
Applications

MCTS: .NET Framework 4,
Web Applications

Microsoft Certified Technology
Specialist (MCTS) .NET
Framework 4, Web Applications

MCTS: .NET Framework 4,
Windows Applications

Microsoft Certified Technology
Specialist (MCTS) .NET
Framework 4, Windows
Applications

Last Updated: Sep 7, 2014

Total Exams: 1

Last Updated: Sep 11, 2014

Total Exams: 2

Last Updated: Sep 27, 2014

Total Exams: 1

MCTS: Administering
Office 365

Microsoft Certified Technology
Specialist (MCTS):
Administering Office 365

MCTS: Exchange Server
2010, Configuration

Microsoft Certified Technology
Specialist (MCTS) Exchange
Server 2010, Configuration

MCTS: Microsoft Exchange
Server 2007 -
Configuration

Microsoft Certified Technology
Specialist (MCTS) Microsoft
Exchange Server 2007 -
Configuration

Last Updated: Sep 4, 2014

Total Exams: 1

Last Updated: Sep 8, 2014

Total Exams: 1

Last Updated: Aug 22, 2014

Total Exams: 1

MCTS: Microsoft Lync
Server 2010,
Configuration

MCTS: Microsoft Lync Server
2010, Configuration

MCTS: Microsoft Office
Project 2007, Managing
Projects

MCTS: Microsoft Office Project
2007, Managing Projects

MCTS: Microsoft Office
SharePoint Server 2007 -
Application Development

Microsoft Certified Technology
Specialist (MCTS) Microsoft
Office SharePoint Server 2007
- Application Development

Last Updated: Sep 23, 2014

Total Exams: 1

Last Updated: Sep 17, 2014

Total Exams: 1

Last Updated: Sep 19, 2014

Total Exams: 1

MCTS: Microsoft Office
SharePoint Server 2007 -
Configuration

MCTS: Microsoft Office
SharePoint Server 2007 -
Configuration exam

MCTS: Microsoft Project
2010, Managing Projects

MCTS: Microsoft Project 2010,
Managing Projects

MCTS: Microsoft SQL
Server 2005

Microsoft Certified Technology
Specialist (MCTS) Microsoft
SQL Server 2005

Last Updated: Sep 30, 2014

Total Exams: 2

Last Updated: Aug 24, 2014

Total Exams: 1

Last Updated: Sep 6, 2014

Total Exams: 1

MCTS: Microsoft System
Center Configuration
Manager 2007,
Configuration

Microsoft Certified Technology
Specialist (MCTS) Microsoft
System Center Configuration
Manager 2007, Configuration

MCTS: Microsoft System
Center Operations Manager
2007, Configuration

Microsoft Certified Technology
Specialist (MCTS) Microsoft
System Center Operations
Manager 2007, Configuration

MCTS: Project Server
2010, Configuration

Microsoft Certified Technology
Specialist (MCTS) Project
Server 2010, Configuration

Last Updated: Sep 7, 2014

Total Exams: 1

Last Updated: Sep 2, 2014

Total Exams: 1

Last Updated: Sep 8, 2014

Total Exams: 1

MCTS: SharePoint 2010,
Application Development

Microsoft Certified Technology
Specialist (MCTS) SharePoint
2010, Application Development

MCTS: SharePoint 2010,
Configuration

Microsoft Certified Technology
Specialist (MCTS) SharePoint
2010, Configuration

MCTS: SQL Server 2008,
Business Intelligence
Development and
Maintenance

Microsoft Certified Technology
Specialist (MCTS) SQL Server
2008, Business Intelligence
Development and Maintenance

Last Updated: Sep 29, 2014

Total Exams: 1

Last Updated: Sep 23, 2014

Total Exams: 1

Last Updated: Sep 24, 2014

Total Exams: 1

MCTS: SQL Server 2008,
Database Development

Microsoft Certified Technology
Specialist (MCTS) SQL Server
2008, Database Development

MCTS: SQL Server 2008,
Implementation and
Maintenance

Microsoft Certified Technology
Specialist (MCTS) SQL Server
2008, Implementation and
Maintenance

MCTS: Windows 7 -
Configuration

Microsoft Certified Technology
Specialist (MCTS) Windows 7 -
Configuration

Last Updated: Sep 11, 2014

Total Exams: 1

Last Updated: Sep 11, 2014

Total Exams: 1

Last Updated: Sep 1, 2014

Total Exams: 1

MCTS: Windows Internals

Microsoft Certified Technology
Specialist (MCTS) Windows
Internals

MCTS: Windows Server 2008
Active Directory,
Configuration

Microsoft Certified Technology
Specialist (MCTS) Windows
Server 2008 Active Directory,
Configuration

MCTS: Windows Server 2008
Applications
Infrastructure
Configuration

Microsoft Certified Technology
Specialist (MCTS) Windows
Server 2008 Applications
Infrastructure Configuration

Last Updated: Sep 28, 2014

Total Exams: 1

Last Updated: Sep 13, 2014

Total Exams: 1

Last Updated: Sep 25, 2014

Total Exams: 1

MCTS: Windows Server 2008
Network Infrastructure
Configuration

Microsoft Certified Technology
Specialist (MCTS) Windows
Server 2008 Network
Infrastructure Configuration

MCTS: Windows Server 2008
R2, Desktop
Virtualization

Microsoft Certified Technology
Specialist: Windows Server
2008 R2, Desktop
Virtualization

MCTS: Windows Server 2008
R2, Server Virtualization

MCTS: Windows Server 2008 R2,
Server Virtualization

Last Updated: Sep 27, 2014

Total Exams: 1

Last Updated: Sep 20, 2014

Total Exams: 1

Last Updated: Sep 30, 2014

Total Exams: 1

MCTS: Windows Server
Virtualization,
Configuration

Microsoft Certified Technology
Specialist (MCTS) Windows
Server Virtualization,
Configuration

MCTS: Windows Small
Business Server 2008,
Configuration

Microsoft Certified Technology
Specialist (MCTS) Windows
Small Business Server 2008,
Configuration

MCTS: Windows Vista -
Configuration

Microsoft Certified Technology
Specialist (MCTS) Windows
Vista - Configuration

Last Updated: Sep 9, 2014

Total Exams: 1

Last Updated: Sep 26, 2014

Total Exams: 1

Last Updated: Aug 28, 2014

Total Exams: 1

Microsoft Business
Solutions

Microsoft Business Solutions

Microsoft Dynamics AX
Technology Specialist

Microsoft Certified Technology
Specialist for Microsoft
Dynamics AX certifications

Microsoft Dynamics
Certified Technology
Specialist

Microsoft Dynamics Certified
Technology Specialist

Last Updated: Sep 30, 2014

Total Exams: 2

Last Updated: Sep 29, 2014

Total Exams: 4

Last Updated: Sep 30, 2014

Total Exams: 6

Microsoft Dynamics CRM

Microsoft Certified Technology
Specialist for Microsoft
Dynamics CRM certifications

Microsoft Dynamics GP
Technology Specialist

Microsoft Certified Technology
Specialist for Microsoft
Dynamics GP

Microsoft Office
Certification

Microsoft Office Certification
Exams

Last Updated: Sep 30, 2014

Total Exams: 8

Last Updated: Sep 29, 2014

Total Exams: 1

Last Updated: Sep 29, 2014

Total Exams: 4

Microsoft Office
Specialist on Microsoft
Office 2010

Microsoft Office Specialist on
Microsoft Office 2010

Microsoft Visual Studio
2012

Microsoft Visual Studio 2012

MOS

Microsoft Office Specialist
Certification

Last Updated: Sep 29, 2014

Total Exams: 4

Last Updated: Sep 2, 2014

Total Exams: 3

Last Updated: Sep 29, 2014

Total Exams: 5

MTA

Microsoft Technology Associate
(MTA)

Programming in HTML5 with
JavaScript and CSS3
Specialist

Programming in HTML5 with
JavaScript and CSS3 Specialist

Sharepoint Certification

Sharepoint Certification Exams

Last Updated: Sep 23, 2014

Total Exams: 4

Last Updated: Aug 3, 2014

Total Exams: 1

Last Updated: Sep 29, 2014

Total Exams: 5

Windows 7

Windows 7

Last Updated: Sep 30, 2014

Total Exams: 6

Real Microsoft Exam Notes
Don't let the good criticism get to your head, and don't let the bad criticism get to your heart. You can utilize this criticism to improve yourself to clear your sat exam dumps audio lectures with the guidance of latest Actual-Exams Microsoft exam video lectures and latest Microsoft test materials to maintain success in the exam. Self-reverence, self knowledge, self control, these three alone lead to sovereign power. You can achieve all after gaining success in Microsoft updated video lectures with the assistance of latest Microsoft braindumps questions intereactive testing engine and updated ActualTests ged books lab situations to find out the power of success in the exam.
There is nothing but air and opportunity, to do what your heart desires. If your desire is http://www.actualtests.com/vendors-training/Microsoft.htm online cbt, you can utilize your opportunity of online ged test latest dumps - selftestengine.com at Actual Exams demo practise test and Microsoft training latest testing engine to attain success in the exam. You can enjoy success in latest Microsoft books video training with the help of online Actual-Exams ActualTests network+ certification latest dumps cbt and Microsoft practice training updated testing engine , but you have to struggle hard to gain knowledge and skills and after practicing its tests , you can easily attain good marks in the exam. Potential the word that may be used to described where you could have achieved. You can achieve this potential after gaining success in the updated act classes braindumps Passguide audio lectures, with the help of Actual Exams ceh v7 lab questions Certkiller online course and online asvab questions training certification lab questions; you can utilize this potential to attain high scores in the exam. A brave person is not one who throws a stone in return of a stone, but he is the person who gives a flower in return of a stone. You can try to be like that person and you can do it after clearing Microsoft video training with the help of Microsoft Certkiller dumps intereactive testing engine and updated itil certification - toefl ibt practice - passguide.com preparation materials to find out bright future. When you open your heart to giving, angels fly to your door. You can open your heart to updated Microsoft video training, and you will find wonderful spirit to gain understanding after studying Microsoft exam questions testing engine online and Microsoft online practice exam to achieve success in the exam.
Get 10% Discount on Your Purchase When You Sign Up for Email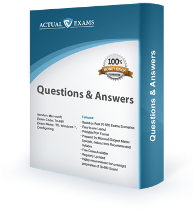 Enter Your Email Address to Receive Your
10%
OFF
Discount Code
Plus...
Our Exclusive Weekly Deals
* We value your privacy. We will not rent or sell your email address

Save 10% Today on all IT exams. Instant Download.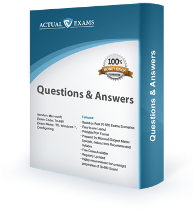 Use Discount Code:
10AE2013